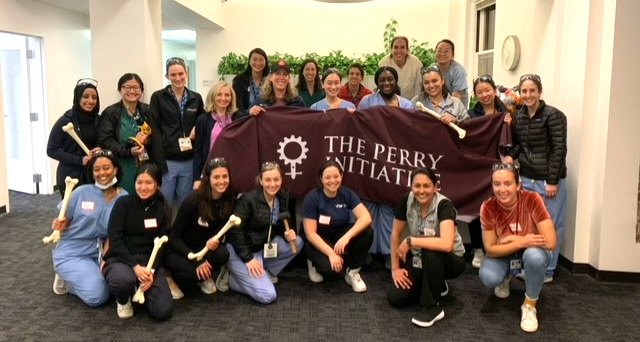 The UCSF Dept. of Orthopaedic Surgery hosted the Perry Initiative's Medical Student Outreach Program on Nov. 17, 2022 at the Orthopaedic Trauma Institute at Zuckerberg San Francisco General in San Francisco. This outreach program, which provides hands-one surgical skills training and career mentoring, is supported by the Department's Diversity, Equity and Inclusivity Committee. (Photo: Courtesy of the UCSF Dept. of Orthopaedic Surgery)
Dr. Lan Chen, center, demonstrates a surgical skills technique to a medical student at the Perry Initiative outreach program held last week at the UCSF Orthopaedic Trauma Institute. In addition to hands-on workshops, the program also highlighted specialty training and career opportunities in orthopaedics. (Photo: Courtesy of the UCSF Dept. of Orthopaedic Surgery)
"Our faculty volunteered to provide future leaders a chance to perform mock orthopaedic surgeries in a clinical setting. It was a great day of learning, observing and problem solving with a group of highly motivated learners," said Dr. Ravinder Brar, a pediatric orthopaedic surgeon and organizer of the event.
"Moreover, we held a roundtable discussion on opportunities in orthopaedics for women. We covered topics, such as specialized surgical training and fellowship programs to career paths and the most-common questions pertaining to work-life balance. It was a great forum to address obstacles to being a woman in the field."
Dr. Elly LaRoque MD, at right, assists a medical student at the Perry Initiative outreach program last week at Zuckerberg San Francisco General. During the program, attending surgeons discussed career paths, such as academic medicine and private practice. (Photo: Courtesy of the UCSF Dept. of Orthopaedic Surgery)
"Women are drastically underrepresented in both engineering and orthopedic surgery, and UCSF is proud to support the Perry Outreach Program's mission in addressing this gender gap," added Dr. Nicole Schroeder, an orthopaedic hand and trauma surgeon who also led the event.
The attending physicians at this year's event included:
UCSF Orthopaedics residents participating included: Dr. Leah Demetri, Dr. Lisa Bonaignore-Opp Dr.  Natali Kucirek, and Dr. Angel Xiao.
Dr. Jennifer Tangtiphaiboontana, at right, demonstrates a surgical skills technique to a medical student at the Perry Initiative outreach event last week. (Photo: Courtesy of the UCSF Dept. of Orthopaedic Surgery)
About the Perry Initiative
The Perry Initiative is a non-profit organization committed to inspiring young women to be leaders in the fields of orthopaedic surgery and engineering. The program targets women in high school and medical school through our outreach programs, providing them with hands-on exposure to these fields and mentoring support to pursue careers in orthopaedic surgery and engineering.
Named in honor of Dr. Jacquelin Perry, who was among the first women certified by the American Board of Orthopaedic Surgery, as well as a pioneer in field of gait analysis and post-polio rehabilitation, the Perry Initiative was founded in 2009 by UCSF's Dr. Lisa Lattanza, an orthopaedic surgeon, and Dr. Jenni Buckley, a mechanical engineer. From its humble beginning in San Francisco, the Perry Initiative now runs more than 50 one-day outreach programs nationwide and has reached more than 13,000 high school, college, and medical students.
###