Dr. Dave Atkin works at an orthopaedic hospital in the early 1990s at Bedford Center, a small hospital in the Transkei homeland of South Africa. (Photo Courtesy of Dr. Dave Atkin).
SAN FRANCISCO, Oct. 4, 2021 – The UCSF Department of Orthopaedic Surgery is pleased to announce that Dr. Dave M. Atkin, MD, FAAOS, has been awarded the 2021 Humanitarian Award by the American Academy of Orthopaedic Surgeons. The Humanitarian Award recognizes members of the AAOS who have distinguished themselves through outstanding musculoskeletal-related humanitarian activities in the United States or abroad.
Dr. Atkin is a distinguished alumnus of the Department. He trained at UCSF as a resident in orthopaedics, and following his residency began his career in Transkei, a segregated homeland of apartheid South Africa.
"It was so rewarding to help indigent patients who were denied basic civil rights," Dr. Atkin said. "At some point I had an epiphany, and I knew that I would always want to work in service to vulnerable populations."
Commitment to providing care to the neediest internationally, locally
Dr. Atkin is known for his work as director of Operation Rainbow, an organization dedicated to performing free orthopedic surgery for indigent children and young adults in developing countries where the necessary medical procedures and supplies are not available.

Operation Rainbow has served more than 18,000 children and provided more than $85 million in aid. Dr. Atkin has led more than 60 surgical missions to Central and South America, Haiti and the Philippines. In addition to providing core pediatric orthopaedic services, Dr. Atkin has helped create 25 arthroscopy centers in different cities within host nations.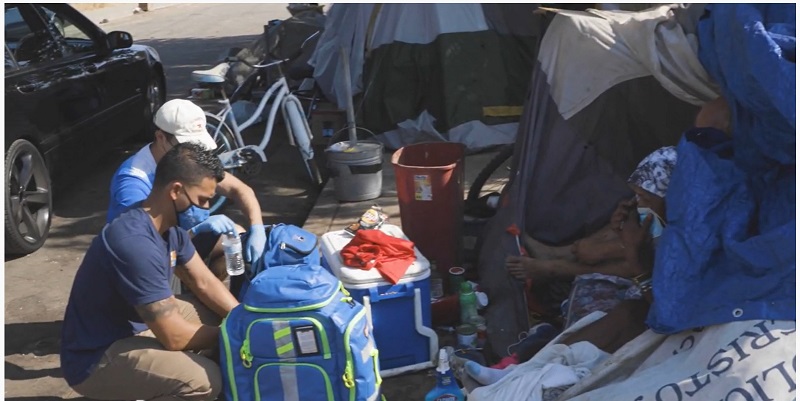 What may be less well known is Dr. Atkin's equal dedication to serving people in need in the United States. Dr. Atkin is the only private practice orthopaedic surgeon working daily with local underserved communities of Southeast San Francisco – Hunter's Point, Bayview and Visitation Valley -- where his patients are primarily Latinx and African American.
"I believe that we are all humanitarians, and that each of us strives to be the best doctor that we can be, and to do the next right thing," Dr. Atkin said.
He supplements his office-based practice with pro-bono house calls to the indigent across the San Francisco community and donates free orthopedic equipment when and where possible.
"I have known Dave for many years, and he has remained absolutely consistent in his commitment to humanitarian activities at home and abroad," said AAOS 2016 Humanitarian Award winner Richard A. Gosselin, MD, FAAOS, a UCSF faculty member. "I do not know anyone more deserving of this honor."
Beyond his day-to-day work, Dr. Atkin, together with a small group of other physicians, campaigned diligently to save St. Luke's Hospital, a critical safety-net hospital in San Francisco, when it was slated for closure. The hospital was initially made part of California Pacific Medical Center (CPMC), part of not-for-profit Sutter Health. In 2018, after many years of Dr. Atkin's galvanizing community, church, and political resources, the hospital was rebuilt and assumed its new name CPMC Mission Bernal campus, which includes a new $538 million hospital that serves the Southeast communities of South Francisco.
Mentoring students of all ages and backgrounds
Dr. Atkin also devotes time to mentoring local and international students and doctors to improve their understanding of humanitarian work and inspire them to make such work a part of their lives.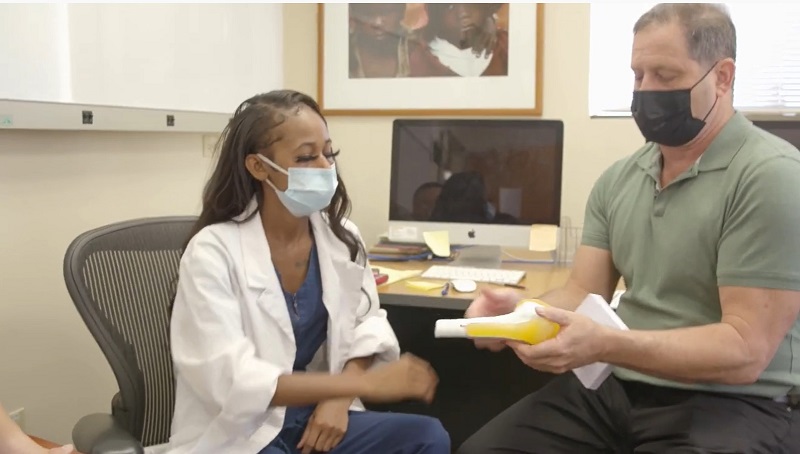 "My mentors taught me that medicine is not about knowing the answers, medicine is about asking the questions:  having a fundamental desire to discover and to understand." Dr. Atkin said. "Of course, we all interpret science differently. We disagree often, and many times, we will passionately defend our positions sometimes we just 'agree to disagree.'
A leader in Diversity, Inclusivity, Social Equity, Global equity
"Conversations about diversity, inclusivity, social equity, and global equity are happening now, and they are all around us" said Dr. Atkin at his acceptance speech to the AAOS. "Just as in science, it's not important that we agree on each of these issues; but it is critical that we are, at least, willing to discuss them and to embrace the spirit of discovery and greater understanding." 
Surfing, camping and offering opportunities to San Francisco's neediest kids
In addition to his work in orthopaedics, Dr. Atkin is an active board member for a number of San Francisco Bay area community youth mentoring and educational programs including the MeWater Foundation, a nonprofit organization that provides day and overnight surf camps to youth, families, and groups, with a mental health approach to mindfulness, empowerment, and exposure to the ocean and the great outdoors.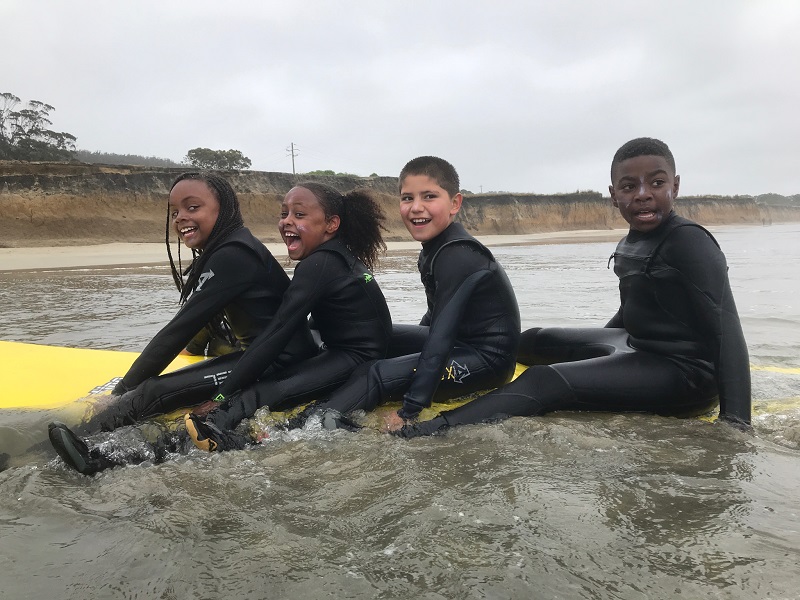 "Our group takes kids who have never seen the Ocean – but live in San Francisco – to go body-boarding or surfing at various Bay Area beaches or camping in Marin.  We feel honored to offer these kids an opportunity to see the world differently," Dr. Atkin said.
"Dr. Atkin embodies the mission of our Department," said Thomas P. Vail, MD, Chair of the UCSF Department of Surgery.  "Pioneering musculoskeletal discovery and innovative care to transform lives. He genuinely seeks diversity, inclusivity and social equity for all patients."
Dr. Atkin is also the fourth orthopaedic physician from UCSF to receive this award in the past 15 years; past recipients include Dr. Richard Coughlin, Dr.  Richard A. Gosselin and Dr. Taylor Smith.
"Dave has dedicated his entire career to being an orthopaedic social justice warrior," said Dr. Coughlin.  "And I'm so very proud of him."
About Dr. Atkin
A native New Yorker, Dr. Dave Atkin moved to the west coast and earned his undergraduate degree at UC San Diego, and his medical degree at UCLA.  He completed his orthopaedic residency at UCSF, and a fellowship in orthopaedics at UCSD/Kaiser. He has been recognized for more than 25 years of years of humanitarian efforts.  He is also an avid surfer, and loving husband and father to two teenagers.
###