Dr. Carlin Senter, MD, will lead the team of Primary Care Sports Medicine physicians in Sports Medicine and Shoulder Surgery Division of the Department of Orthopaedic Surgery at UCSF. (Photo: Noah Berger for UCSF)
SAN FRANCISCO (Oct. 1, 2020) -- The UCSF Department of Orthopaedic Surgery is pleased to announce that Carlin Senter, MD has been appointed as the Director of Primary Care Sports Medicine Service within the Division of Sports Medicine and Shoulder Surgery.
"Our team is comprised of a group of physicians specifically trained in primary care as well as sports medicine," Dr. Senter said. "Our goal is to help patients recover from injuries or illnesses that prevent them from being as active as they want to be. We determine whether a patient's condition requires surgery or if the problem can be managed by other types of treatment. We are also very dedicated to teaching current and future physicians how to practice musculoskeletal medicine, as well as actively involved in research to help solve common and yet complex sports medicine conditions that affect all of us."
"Dr. Senter brings a tremendous wealth of experience to leading her team," said Dr. Thomas P. Vail, MD, chair of the Department. "She is deeply committed to patient care and sets the gold standard for physician excellence. Our Department is thrilled to have her lead in this role."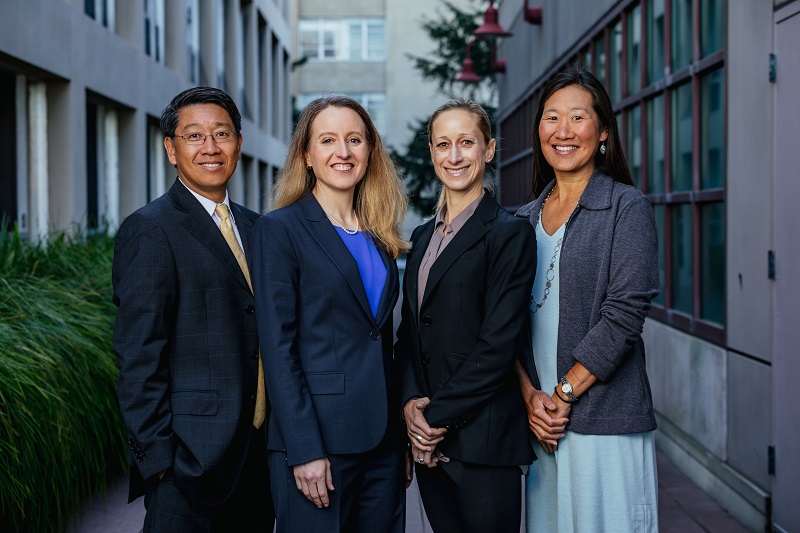 The UCSF Primary Care Sports Medicine team includes, from left, Anthony Luke, MD, MPH, Carlin Senter, MD, Kristin Wingfield, MD and Cindy Chang, MD. (Photo: UCSF Department of Orthopaedic Surgery) 
"Dr. Senter is a true expert in the practice of primary care sports medicine," said Dr. Brian T. Feeley, MD, Section Chief of the UCSF Division of Sports Medicine and Shoulder Surgery. "From young athletes to active retirees, Dr. Senter and her team treat a wide variety of musculoskeletal ailments -- from strains, sprains, and tendinitis to fractures, sports concussions, and arthritis. She will also be part of the team on solving medical problems unique to female athletes, runners, cyclists, swimmers, and other sports enthusiasts."
Dr. Senter will be taking over this leadership role from her colleague, Dr. Anthony Luke, MD, MPH, who has served as the UCSF Primary Care Sports Medicine Director since 2003; Dr. Luke will continue to serve on the team and will focus more of his effort as Director of the UCSF Human Performance Center as well as research in PRP and digital health.
"Dr. Luke has an incredible reservoir of creative talent. He has been an exceptional leader in the department and in the community, embodying our core values -- professionalism, respect and excellence. We thank him for his long, successful run as leader of this team," Dr. Vail added.
About Dr. Senter
Dr. Carlin Senter emphasizes helping patients of all ages to stay active, reduce injury risk and achieve peak performance. She has particular interests in exercise counseling and exercise prescription as well as in treating sports concussions. She is also the co-director of the UCSF Sports Concussion Program.
Dr. Senter's research focuses on enhancing musculoskeletal education for primary care clinicians. She designs programs to increase knowledge of the musculoskeletal system and improve diagnostic skills among medical students, residents and practicing clinicians. She directs the UCSF Resident Injection Clinic for internal medicine residents that are planning to practice primary care. She co-chairs two annual continuing education courses in sports medicine.
Dr. Senter earned her bachelor's degree in environmental science and public policy from Harvard University, followed by earning her medical degree at the David Geffen School of Medicine at UCLA. She then completed a residency in internal medicine at the University of Washington Medical Center, followed by a fellowship in primary care sports medicine at UCLA.
Dr. Senter belongs to the American College of Physicians, American Medical Society for Sports Medicine and the, American College of Sports Medicine. She has received numerous awards for teaching and service.
Dr. Senter grew up in the East Bay, where she was a three-sport high school athlete. As an undergraduate at Harvard College, she rowed for Radcliffe Crew. She is currently team physician for University of San Francisco and Washington High School.
Meet Dr. Carlin Senter (video)