Stefano Bini, MD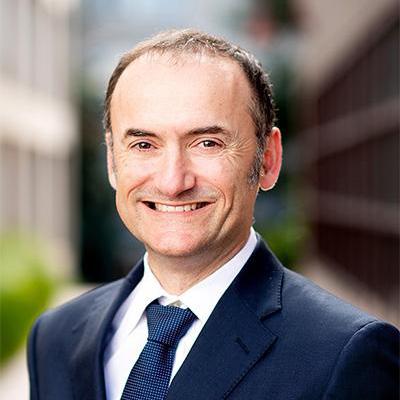 Stefano Bini, MD
Professor
Orthopaedic Institute - Arthritis & Joint Replacement
Web Links
Awards Honors
AAHKS Presidential Award
2018
AAHKS Presidential Award, American Association of Hip and Knee Surgeons, 2018
American Association of Hip and Knee Surgeons
Maria Manetti Shrem Endowed Professorship
2022
Maria Manetti Shrem Endowed Professorship, University of California, San Francisco, 2022
University of California, San Francisco
Rand Young Investigator Podcast Award: Questioning the "Nickel Free" Total Knee Arthroplasty
2021
Rand Young Investigator Podcast Award: Questioning the "Nickel Free" Total Knee Arthroplasty, American Association of Hip and Knee Surgeons, 2021
American Association of Hip and Knee Surgeons
AAHKS Best Poster Award
2019
AAHKS Best Poster Award, American Association of Hip and Knee Surgeons, 2019
American Association of Hip and Knee Surgeons
The Mark Coventry MD Award for PMID: 31256650
2019
The Mark Coventry MD Award for PMID: 31256650, The Knee Society/AAHKS/AAOS, 2019
The Knee Society/AAHKS/AAOS
Great Save Award
2017
Great Save Award, University of California, San Francisco, 2017
University of California, San Francisco
James O. Johnston Orthopaedic Symposium, 10 Years of Academic Excellence, Leadership Award
2015
James O. Johnston Orthopaedic Symposium, 10 Years of Academic Excellence, Leadership Award, Kaiser Permanente of Northern California, 2015
Kaiser Permanente of Northern California
AAHKS President's Honor Roll, Brian Parsley President
2013
AAHKS President's Honor Roll, Brian Parsley President, American Association of Hip and Knee Surgeons, 2013
American Association of Hip and Knee Surgeons
Honorary Corresponding Member
2013
Honorary Corresponding Member, Sociedad Chilena de Ortopedia y Traumatologia, 2013
Sociedad Chilena de Ortopedia y Traumatologia
Leadership Program Scholarship Recipient, Cohort 12
2012
Leadership Program Scholarship Recipient, Cohort 12, California Health Care Foundation, 2012
California Health Care Foundation
Teacher of the Year Award
2011
Teacher of the Year Award, San Francisco Orthopaedic Residency Program, 2011
San Francisco Orthopaedic Residency Program
James O. Johnston Award for Excellence in Orthopaedic Research, Leadership and Resident Training
2009
James O. Johnston Award for Excellence in Orthopaedic Research, Leadership and Resident Training, Kaiser Permanente of Northern California, 2009
Kaiser Permanente of Northern California
Kaiser Permanente National James A. Voh Award for Quality
2008
Kaiser Permanente National James A. Voh Award for Quality, National Kaiser Permanente Total Joint Replacement Registry, 2008
National Kaiser Permanente Total Joint Replacement Registry
Outstanding Planning in Physician Education Award for the James O. Johnston MD Orthopaedic Symposium
2007
Outstanding Planning in Physician Education Award for the James O. Johnston MD Orthopaedic Symposium, The Permanente Medical Group Physician Education Department, 2007
The Permanente Medical Group Physician Education Department
Resident Award Paper
1995
Resident Award Paper, Leroy C. Abbott Orthopaedic Society Meeting, 1995
Leroy C. Abbott Orthopaedic Society Meeting
Resident Award Paper
1993
Resident Award Paper, Western Orthopaedic Association, Northern Chapter, 1993
Western Orthopaedic Association, Northern Chapter
Academic Distinction in Political Science
1986
Academic Distinction in Political Science, Stanford University, 1986
Stanford University
Grants & Awards
Patient Movement Study
2020-11-12 - 2021-11-12
Google LLC
Role: PI
The Oaks: A Mobile Exercise and Education Program for People with Osteoarthritis of the Knee
2019-03-01 - 2020-02-29
National Institutes on Aging/NIH R44AG055341
Role: CO-PI: Healthcare technology and digital health/data assessment.
UCSF - CDMI: Gait Analysis (Project 2015322)
2017-09-01 - 2018-08-30
National Science Foundation A123593
Role: Project PI
UCSF - CDMI: Wearable Sensors (Project 2014802)
2016-09-01 - 2017-08-30
National Science Foundation A123593
Role: Project PI
Education
| | | | |
| --- | --- | --- | --- |
| | Residency | University of California, San Francisco | 01/1995 |
| | MD | Columbia University College of Physicians and Surgeons | 01/1990 |
| | Fellowship | Università di Firenze | 01/1999 |
| | Fellowship | Rizzoli Orthopaedic Institute | 01/1997 |
| | Residency | University of California, San Francisco | 01/1991 |
| | BA | Stanford University | 06/1986 |
About
Stefano Bini, MD
Dr. Stefano Bini, MD was born in Italy, raised in Australia (he still has a slight Aussie accent) and finished high school in San Francisco. He received his BA from Stanford University, his MD from Columbia University's College of Physician and Surgeons, and completed Residency training at UCSF. Subsequently, he completed a Fellowship at the Rizzoli Orthopaedic Institute in Italy and obtained a second MD from the University of Florence (and ate lots of great food!). Prior to joining the faculty at UCSF, Dr. Bini worked at Kaiser Permanente as a joint replacement surgeon. He held multiple leadership positions including Chief of Orthopedics at two medical centers and Chief of the Adult Reconstructive Surgery Service in the East Bay. He participated in regional committees tasked with improving quality, access, and efficiency at Kaiser. He was selected for the California Health Care Foundation Leadership Program and developed an interest in applied organizational design. As a result, Dr. Bini co-authored a forthcoming book on change management. Active in professional associations and academia, Stefano currently serves as the Chair of the International Committee for the American Association of Hip and Knee Surgeons and sits on the Biomedical Engineering Committee for the American Academy of Orthopedic Surgery. He is the Associate Editor of Arthroplasty Today and is a reviewer for 4 major orthopaedic journals. Over the past decade, Dr. Bini has organized over a dozen conferences and learning labs nationally and internationally, presented over 110 scientific papers and has authored 23 research papers with a focus on leveraging large databases to help define best practices in hip and knee replacement surgery.
Dr. Bini is very committed to teaching (and learning from!) residents and colleagues and has received several related awards including the James O. Johnston Award for Excellence in Orthopedic Research, Leadership and Resident Training; the San Francisco Orthopedic Residency Program Teaching Award; the National Kaiser Permanent James Vohs Award for Quality for his work on establishing the Kaiser Permanente Total Joint Replacement Registry, and The Permanente Medical Group award for Outstanding Planning of Physician Education. Dr. Bini is very excited to return to UCSF and work to continuously improve the patient care experience, clinical outcomes and resident training. Dr. Bini's clinical practice will continue to focus on total hip replacement through both anterior and posterior approaches, and total knee replacement using a novel anatomic alignment technique ("kinematic" knee alignment). Dr. Bini also has extensive experience in revision and complex total joint replacement. His three primary research areas will be the application of technology to health care delivery systems (digital medicine), improving surgical techniques in knee replacement surgery, and cartilage repair. Outside work, Stefano is an avid cook, reasonable dancer and amateur photographer. He loves traveling, sailing and skiing and swims to try and stay in shape. He and his children Michaela and Gianluca live in the East Bay with his wonderful wife Katherine. Currently, the family has to put up with his trying to learn the guitar despite Dr. Bini having no inherent musical talent to speak of.