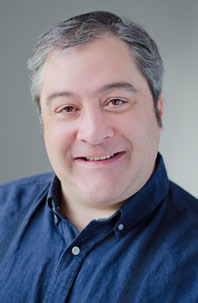 SAN FRANCISCO (August 29, 2022) – The UCSF Department of Orthopaedic Surgery is pleased to announce that Ralph Marcucio, PhD, a Professor of Orthopaedic Surgery, has been named the recipient of the David Bixler Distinguished Scientist in Craniofacial Research Award by the Society for Craniofacial Genetics and Developmental Biology.
The research award is named after the society's first president, David Bixler, who founded the organization in 1975 to promote research, education, communication and policy about normal and abnormal development of the head, face and neck.
"I am honored and humbled to be recognized by my peers with this award The award is really an acknowledgement of the dedication and outstanding work of all the members of my laboratory and my collaborators" Dr. Marcucio said. "In academic medical research, it is a genuine privilege to be engaged with my colleagues in this work to provide a better understanding of craniofacial anomalies."
"I am very pleased that Dr. Marcucio is being recognized by his peers with this award to celebrate his commitment to orthopaedic research," said Dr. Thomas P. Vail, Chair of the Department. "We are always amazed by his unwavering curiosity and commitment to craniofacial and musculoskeletal research."
Dr. Marcucio will accept the award at the society's annual meeting in La Jolla, Calif. next month.
About Ralph Marcucio, PhD
Ralph Marcucio was born in and grew up in Amsterdam, N.Y. Dr. Marcucio began his research career as an intern at The Boyce Thompson Institute while he was an undergraduate at Cornell University in Ithaca, NY. After receiving his bachelor's degree from Cornell University in 1990, Dr. Marcucio was accepted into Cornell University's School of Agriculture PhD program. He completed his PhD in 1995. For his exemplary performance and dedication as a Graduate Teaching Assistant, Dr. Marcucio was recognized by the Dean of Cornell University's School of Agriculture for his outstanding contribution to undergraduate education. After receiving his PhD, Ralph was awarded a prestigious NIH training grant to study tissue interactions that control development of the musculoskeletal system. Dr. Marcucio spent 5 years in the New York State College of Veterinary Medicine studying the origins of the musculature responsible for moving the head and jaw skeleton.
In 2000, Dr. Marcucio joined the Molecular and Cellular Biology Laboratory at the University of California, San Francisco, (UCSF). In this position, he began studying how the skeleton of the face attains its shape and form. This work has resulted in the preparation of numerous manuscripts for publication in world-renowned research journals and has formed the basis for his independent research career.
In 2003, Dr. Marcucio was appointed to the faculty at UCSF as an Assistant Professor in Residence in the Department of Orthopaedic Surgery. His research program focuses on two basic science areas. First, he studies bone fracture healing focusing on the transformation of chondrocytes to osteoblasts and other cell types, as well as the inflammatory process during healing. Second, Dr. Marcucio is examining the role that the brain plays during normal development of the facial skeleton. Many facial birth defects have an underlying brain malformation, and the goal of the research is to generate novel therapeutic approaches that will allow correcting facial malformations prior to birth.
Dr. Marcucio is a dedicated and enthusiastic mentor to dental and medical students. His students have been invited to participate in university, state, national, and international research competitions.
###